Background

Lancastle International Ltd has always been a family owned and managed company. Founded in 1950, the company was established in as an offshoot of Merino Knitwear Limited and set up to convert locally manufactured acetate fabrics into ladies lingerie. During the 1970s the business moved to its current location and concentrated on made-to-measure knitwear and catalogue shortfall production for articles such as sports shirts, pyjamas and knitwear.
In 1978, Lancastle was approached to produce Racal's Airstream filter. The product was technically difficult to make and several manufacturers had failed to achieve a sufficiently high quality standard. The success of this product lead to a series of product developments over the following two decades establishing Lancastle as one of Europe's most experienced leading designers and suppliers of powered and supplied air hoods and faceseals.
Lancastle entered the FME market in 2008 working with British Energy to redesign fabric FME covers to make them easier to use and more durable in use. Since then the company has grown it's range of FME covers and customers to become a leading supplier of FME products for the UK.

Directors

Third generation director, Paula Williams, has run the business with her husband Richard since 1998. Since then, the business has diversified into new markets and consolidated Lancastle's reputation as a quality stitched goods manufacturer.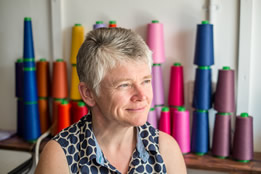 Paula Williams
17 years expertise in financial control and production management
Degree trained physical chemist
Background of Sales and Marketing in the consumer goods industry

What's Next?

Looking to the future, the aim is to build on the company's strengths in quality manufacturing and design competency, whilst keeping costs down to ensure we remain competitive in our field.